Welcome to Keanu 4 Ever. A site dedicated to my favorite actor, Keanu Reeves.
On this site I'll include everything about my favorite star, including a biography, an annotated list of films, a photo album, breaking news, and more.

Thanks for taking a look at my site. Be sure to sign my GuestBook below or send me a private e-mail with your thoughts and suggestions. I'll be updating frequently, so please check back often.
The Circle K SiteRing

This site owned by
Kara Ray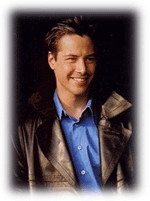 In his eleven-year film career, Keanu Reeves has
established himself not only as a teen heartthrob but also as one of the highest paid actors of his generation. This recognition has come with the success of "Speed," which grossed nearly $300 million at the box office worldwide.