News
11/24/00
Keanu Reeves fans take note: A sneak peek of the creepy thriller The Gift, also starring Katie Holmes and Cate Blanchett, features a side of Reeves, as a redneck wife-beater, we've never seen--not to mention a riveting turn by Giovanni Ribisi.

11/24/00
`Heart of the City' Becomes Winter Wonderland; Tree Lighting First of Several Holiday Festivities in Downtown Los Angeles
LOS ANGELES (BUSINESS WIRE) - This year's Downtown holiday season kicks off with the 15th annual tree lighting ceremony at Ernst & Young Plaza, 7th and Figueroa Streets.
The public is invited to join a celebration with actor Keanu Reeves, Los Angeles Kings' Luc Robitaille, Mayor Richard Riordan and Central City Association President Carol E. Schatz for a spirit-filled event on Nov. 30 at 5:30 p.m. "Team to Win," a program at Centinela Hospital whose goal is to reduce the incidence of high school athletic injuries, will receive the proceeds from donations made at the event.
....



November 24-December 1
Keanu Reeves will be hosting 'Indie Rocks' on the Independant Film Channel. Special appearances with Dogstar and clips from their concerts and other stuff, so tune in!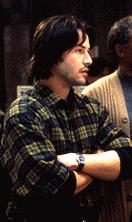 Release Dates:

The Replacements
USA - 11.08.00
Belgium - 01.10.00

Switzerland - 16.11.00

The Watcher
USA - 08.09.00
France - 08.11.00

Germany - 25.01.01

The Gift
USA - 22.12.00 (Limited Release)
Germany - 08.03.01

Netherlands - 14.12.00 (?)

Sweet November
USA - 16.10.01



In Production:
Hardball
The Matrix 2&3
(11/2000)